Dial-A-Ghost
Written by Eva Ibbotson
Illustrated by Kevin Hawkes
Reviewed by Taylor S. (age 10)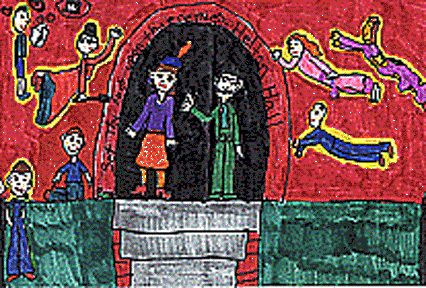 Dial-A-Ghost is about ghosts and one human boy named Oliver who is a relative to the Snodde-Brittles. The Snodde-Brittles are very mean people who later in the book try to kill Oliver by having some ghosts named the Shriekers try to scare him. The Shriekers later meet up with another family, the Wilkinsons. The Wilkinsons find a little girl and decide to call her Adopta. The Wilkinsons are asked to go to a nice place with nuns and flowers, but instead end up at Helton Hall. The Shriekers find out a ghastly thing which will surprise and devastate you.
I liked this book because it?s funny and it?s got a lot of ghosts in it and I have an interest for ghosts. My favorite part of the book was when the Shriekers were telling about how they died. My favorite character was Adopta because she?s so confident and she?s so grateful for what she has and not mad that doesn?t have everything. The illustrations are realistic, almost as if they could pop out of the book any minute.
I give this book five stars and a giant high-five. Anyone who likes a good book should definitely check this out.