Boxcar Children-Mountain Top Mystery
Written by Gertrude Chandler Warner
Illustrated by David Cunningham
Reviewed by Nia S. (age 9)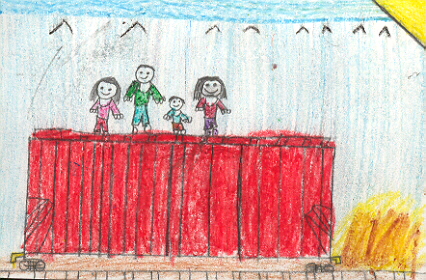 Have you ever read The Box Car Children and The Mountain Top Mystery? Well if you haven't you should. This book is about five people who are on a trip to Flat Top. They were sitting and the little boy was going to look off the side and a rock slide happened.They thought they saw a hole. Then the mystery starts. They go and see the indian lady named Lovan. They find out about the gold. They start searching. Well, I can't tell you any more because you have to read it for yourself.
This book makes me feel happy because they help and do good things in this book to find out about the gold. I like this book because it made me excited and made me want to jump into the book to go with them. This story reminds me of Trapped in a Cave. It also reminds me of Trapped in Slick Rock Canyon.
I recommend this book to people who like mystery books because it is adventerous and it is very interesting. I think 7 year olds and up should read this book because they would probably like this book becauseit is funny and fun to read. My favorite part was when they ate a lot of food because they hadn't eaten in a long time and oredered a lot of food.