Naming the Cat
Written by Lawrence Pringle
Illustrated by Katherine Potter
Reviewed by Jennifer V (age 9)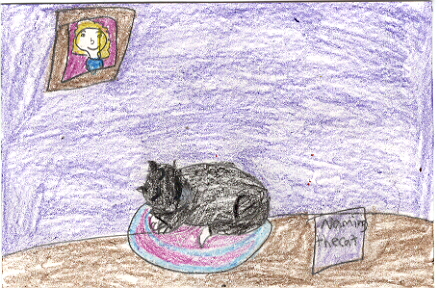 This book is about a cat who is lucky. The family can't decide what to name the cat. He almost gets eaten by a dog. He jumps out of a window and doesn't get hurt. The family decides to name the cat Lucky because of the events that happened.
I like the book because the way the family names the cat and how it happened. I like the part when they name the cat. I like that part because they had trouble naming the cat.The cat was so lucky that they named him Lucky. Lucky reminds me of my cat because my cat was lucky too. When I got my cat this girl stopped in a car. My brother was out side. She asked, "Do you want this cat? My brother answered, " Why not? She gave the cat to him. A couple days passed. She told this lady that she lost her cat. She told the lady that I took the cat. Finally the lady came to my house and told my mom to give the cat back to the girl. My mom told the lady what happened and how I got to keep the cat for my very own pet. The lady said okay and thats how my cat was lucky.
I recommend this book to you because if you like cats, well this book is about cats. You would like it if you read this book. And if you like naming a cat it might be your luky day.You should read the book. You should read this book to find out what else happens to the cat.