Arthur's Chicken Pox
Written by Marc Brown
Reviewed by Lane S. (age 9)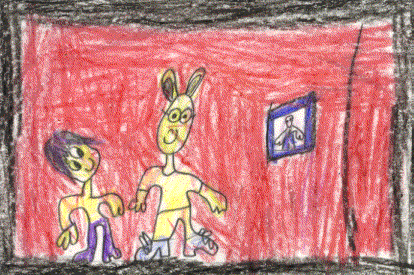 One Monday morning Arthur was eating his breakfast at the table with D.W. D. W. said I can not wait until the circus this weekend. That Wednesday Arthur's father was called to school. Arthur was sick in the nurses office. His father took him home. He does not want to be sick because the circus was in a few days. When D.W. got home from school, she looked at Arthur and said, "I don't think you are sick. I think you are faking it." When it was supper time D.W. said, "Why does Arthur get to eat in the living room?" Her mom said, "Arthur is sick." The next day he was really sick with the chicken pox. When his parent's were getting ready for work, Grandma Thora came with presents for Arthur. After school Arthur's friends brought his homework and get well cards. When Arthur's father got home from work, he gave Arthur a box of cough drops and a sheet of stickers. D. W. asked for cough drops too. Arthur's father said you are not sick. D. W. felt left out from everything.
The next day D.W. went in the bathroom and got a pink marker and made a lot of spots on her face. She went downstairs and Grandma Thora said, "Oh my goodness! I need to take your temperature." Then Grandma Thora gave D. W. a bath and the spots came off. Grandma Thora was very disappointed in D. W. It was Saturday, the day of the circus, Arthur was well, they were waiting for D. W. When D. W. came downstairs. . . You have to read the story to find out what happens.
My favorite was when D. W. put pink spots on her face. She faked it because she felt left out and she wanted to be noticed a little bit more. This book was funny, Arthur was sick and D. W. was doing everything to make people think she was sick. I had the chicken pox and it wasn't any fun at all. You just lie in bed all day. It is really boring because you do not get to play.
I recommend this book for all kids because it is an easy read book.