No Howling in the House
Written by Erica Farber & J. R. Sansevere
Illustrated by Mercer Mayer
Reviewed by Sammy D. (age 9)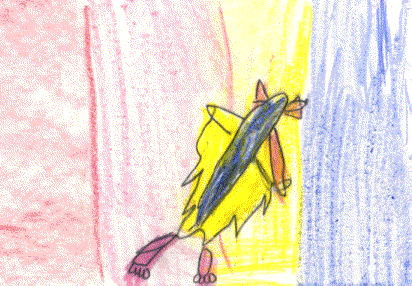 This book is about Thistle and Axel learning how to fly and howl.The Howls family lived in a mansion called Old Howl Hall. Axle's father knew how to howl and Axel wanted to learn too. All the boys in the family learned to howled. Mrs. Howl knew how to fly and Thistle wanted to learn how to fly. All of the girls in the family learned to fly. They tried to learn with their mom and dad, but they couldn't do it because they tried too hard.They tried to make a magic pie to help them howl and fly, and it didn't work. They needed the purple toad to make the magic pie. They couldn't catch the purple toad because he was so fast. They felt sad because the magic pie wouldn't work, and Axel would never be able to howl. Thistle was sad because she wouldn't be able to fly. At home in bed, Axel's mom and dad woke up and heard a howl. If you want to learn what happens . . . Read the story.
I like this book because I like to howl. I hope you like this book. The pictures are very impressive because they have a lot of color. My favorite part was the end because it was surprising. It was very easy to read. I hope you enjoy this No Howling in the House.
I recommend this book for all the kids in the world because it is funny.