Fantastic Mr. Fox
Written by Roald Dahl
Reviewed by Gianpaulo P. (age 8)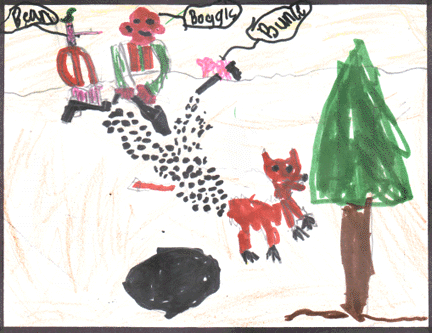 This book is about a clever fox named Mr. Fox. Mr. Fox out smarts three farmers. One day the farmers shot Mr. Fox's tail. It was really painful for Mr. Fox but he didn't get caught. Another day the farmers surrounded Mr. Fox and tried to catch him, but Mr. Fox was very clever, he dug to these three farms. The ending was extremely weird.
I like this book because the foxes dig. I like digging. Also most animals in the book dig. My favorite picture in the book is when the tractor and the foxes were racing because the were digging. The illustrations of the people look very strange.
I recommend this book to people who like animals that dig. I think people who like comedy should read this book, too.