Amelia Goes to Space
Written by Marissa Moss
Illustrated by Marissa Moss
Reviewed by Adara A. (age 10)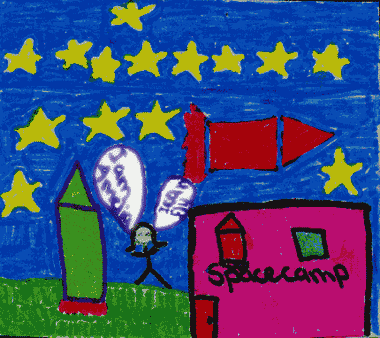 This book is about a girl named Amelia who goes to school. Her teacher is very mean. When she wants to go to space camp, her mother says "No." Amelia has no friends at her school, and her best friend goes to a different school. Her mother realizes this, and decides to let Amelia go to space camp. When she gets there something surprising happens.
I like Amelia because she is brave and generous. For example, there was a mean boy and she punched him. Amelia's sister reminds me of my friend Demi. Amelia's sister is mean and so is Demi.
I like this book because it is interesting to me. I think this book could be a true story because a girl could go to a space camp, and have a mean teacher.
I would recommend this book because of the pictures and the characters. I like the pictures because they are colorful and I like the characters because they are funny. One of the funniest parts is when she sticks french fries up her nose. I think people who like funny things and adventures would like this book.