Rainbow Fish and the Big Blue Whale
Written by Marcus Pfister
Reviewed by Kate S. (age 8) & Amanda M. (age 7)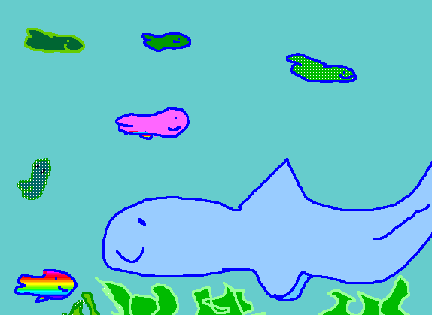 In the story the Rainbow Fish and his friends were playing when a big whale came along. The fish thought the whale was going to eat them, so the fish were mean to the whale. Then the fish went into a cave and then the whale blocked the cave. The fish couldn't get out! Eventually the whale moved away from the cave. The fish found out that the whale was not going to eat them, he was just admiring their scales.
The fish learned a lesson that they should not say mean things to others.I think you should read this book to find out if the fish and the whale become friends.
I (Amanda) like this book because it is sort of long and I like reading long books. I think it is a very good book. There are little sparkly things on almost every page.