Zin! Zin! Zin! A Violin
Written by Lloyd Moss
Illustrated by Marjarie Priceman
Reviewed by Prince G. (age 10) & Raymond B. (age 10)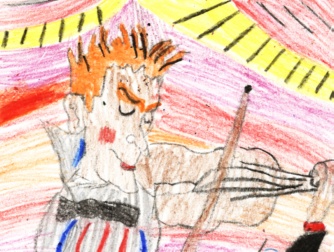 This book is about a lot of people with different instruments. There was a trombone, a trumpet, a frenchhorn, a sliver flute, Zin Zin Zin with a violin, and many more. This book teaches you about different instruments that can be found in an orchestra. We even learned that when nine people get together to play music they are called a NONET! That is a funny word!
We liked the way the writer made all the words rhyme like music. It fit in with the drawings in the book. We also liked the way all the people had curved arms so it looked like they didn't have bones! They looked really funny.
All in all, we think this is a very good book for people who like to play music with instruments. It teaches you something too.