The Indian in the Cupboard
Written by Lynne Reid Banks
Illustrated by Brok Cole
Reviewed by Quenniqua M. (age 10) & Tatiana T. (age 11)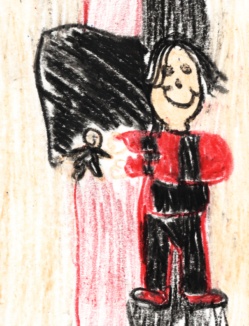 This story was about a boy named Omri. On his birthday his friend Patrick gave him an Indian toy. He also got a cupboard for his birthday. So, he put the Indian toy in the cupboard, and when he went to go open the cupboard with the key he saw that the Indian had come alive. The Indian was very small to Omri and he could even talk. He was a real live person, only very very small. He told Omri that his name is Oh gwai which meant Little Bear. Omri learned a lot about Oh gwai's family, the Iroquois Indians. But Omri soon learned that is it hard to take care of a person that small. You will just have to read the book to find out what happens to Oh gwai and Omri and Patrick. Hint: Oh gwai got a friend that was small like him too!
We liked this book because it?s very interesting. We liked the pictures because they were not just drawings, but real pictures like you take with a camera. In the middle of the book when Omri saw that the Indian had come alive, he had a shocked expression on his face. It looked kind of silly to see a person like him have a face expression like that. We think it was nice for Omri?s friend to give him that Indian toy for his birthday.
We would recommend this book to a friend. Not just a friend but a third and second grade friend. We would recommend it because it isn?t an easy book and it isn?t a hard book, it?s a standard book. This book is very interesting.