Rabbit Hill
Written by Robert Lawson
Reviewed by Sadiat P. (age 13)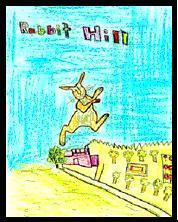 Robert Lawson wrote the selection of animal legends and short stories entitled "Rabbit Hill" which I read. Little Georgie, Uncle Analda, Porkey and Mother were the main characters in the book. Little Georgie, the rabbit, was the first to break the news to the others about the new folks moving into the big house on the hill near to where they all lived. Many of the stories are about Geogie?s experiences with the new people on the hill. In one of the stories in the selection, Georgie makes friends with the new people. Soon they began to encourage him to do bad things that made his mother worry. When he realized what he was doing to his mother, he decided to stop doing the bad things so he would make her happy again. From this story, I learned just like Georgie that you must be careful who you talk to and who you take advice from. I would recommend this book to all my friends because they talk to anybody and everybody even when they don?t know the person. I think they need to learn this lesson too.
In my opinion this selection of short stories is excellent. The characters, the writing, and the illustrations were all excellent. They could not have been better. The book is also very interesting. The stories in the book switch between fast and slow sometimes. Some are funny. Some are long and some are sad. Most are interesting and exciting.
I have not read anything written by this author before but I would read books like this again on other subjects. I chose this book because of the cover. When I first saw it with the rabbit hip-hopping over everything, I expected it would be full of excitement and it was. I read two or three books every week. I like to read exciting books.