Nate the Great and the Missing Key
Written by Marjorie Weinman Sharmat
Illustrated by Marc Simont
Reviewed by Kyle N. (age 9)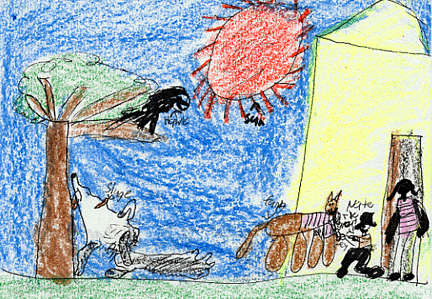 "Nate the Great" is a kid about my age who is a detective. His friend, Annie, is having a birthday party for her dog, Fang. Annie's friend, Rosamond, hides Annie's house key while Annie's out buying a present for Fang. When Annie gets back, her house is locked and Rosamond left her a mysterious poem with clues about where to find her housekey. The rest of the story is about finding the missing key.
I liked the book because it feels good to solve a mystery.
My favorite part of the book was when Nate the Great and his trusty dog/partner, Sludge, look up the drainpipe because I thought it was funny.
The drawings were simple and good. Some were also funny. They were drawn in black and white and showed interesting vantage points.
This book was like other "Nate the Great" books I read by the same author, such as Nate the Great and the Musical Note, and Nate the Great and the Phony Clue. Actually, even though it's not a continuing series like Harry Potter, there are lots of other Nate the Great books that are interesting because he has a different mystery to solve in each book.
I was interested while I was reading the book because I was trying to solve the mystery, too.
I would recommend this book and other Nate the Great books to my friends because it's fun to solve mysteries. I know they would like it.