The Indian in the Cupboard
Written by Lynne Reid Banks
Illustrated by Brok Cole
Reviewed by Hallie B (age 8)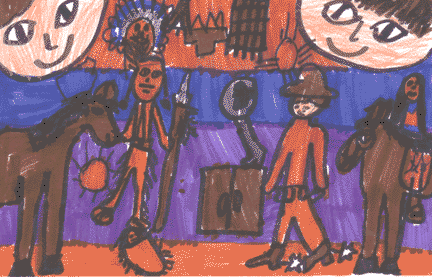 Do you like Indians and Cowboys? Even if you don't, this book is for you. I didn't like Indians or Cowboys, but I loved this book.
It starts out when ten year old Omir gets a cupboard for his birthday. He found a magic key from his grandma that can turn action figure to real life! Omir put in a brave Iroquois Indian and his friend Patrick put in a boo-hoo crying Cowboy.
If you think it's easy being in charge of two little people, you are SO wrong. The characters run across problems.
My favorite part was when Boone the cowboy, shot Patrick in his cheek! (Don't worry they're little people, so it didn't really hurt).
Patrick reminds me of my brother. When I tell my brother not to do something, he does it anyway.
This book reminds me of my life because when I have a secret, I've got to tell it, and Omir and Patick also have a secret.
I recommend this book to anyone who likes adventures.