Strega Nona
Written by Tomie dePaola
Illustrated by Tomie dePaola
Reviewed by Randy A. (age 8)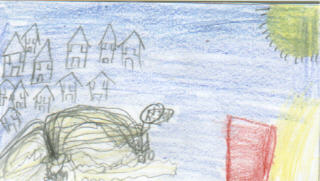 A boy named Big Anthony came to visit Strega. She promised him that if he worked hard she would give him a place to sleep and food to eat. She told him not to touch the pasta pot. One day, he saw her working with the pot and he was amazed at what she did. He decided to do the same thing and forgot what Strega asked him not to do. He tried to do the same thing but he did not hear everything and made a big mistake. All the pasta went to town and all the people wanted to string him up. Strega Nona said the punishment must fit the crime. Guess what the punishment was?
I like the part when Strega blew the three kisses on the pot. I recommend this book because it is a good book.
This book teaches you that you have to listen to what adults tell you not to do because if you do not follow instructions you could get in trouble.