I Mean It Stanley
Written by Crosby Bonsall
Illustrated by Crosby Bonsall
Reviewed by Salome M. (age 9)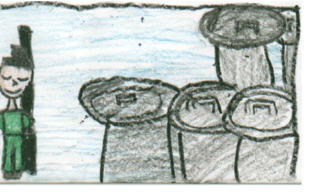 Do you like to build things? This story is about a girl that builds a ?truly great thing? out of junk. The girl wanted to build and give this as a surprise to her friend Stanley, but he is nowhere to be found. But who is Stanley anyway? That is a mystery! Until the great thing is almost complete, that is. Then, it?s playtime, and there?s just no stopping Stanley. If you want to know who Stanley is read this very interesting and amusing book.
My favorite part of this story is when the girl made the ?truly great thing? out of junk. My favorite character is the girl.
This story reminds me of when I had a turtle. One day it disappeared. I never saw my baby turtle again. I think it went down the dram because my mother always kept it in the bathroom.
I recommend this book to children that like to read mystery stories