Annie and Cousin Precious
Written by Kay Charao
Illustrated by Kay Charao
Reviewed by Sasha A. (age 9)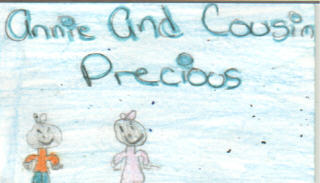 Have you ever had a family member that came to your house to visit and is a problem? This story is about a girl named Annie that doesn?t like it when her cousin comes to her house. One day her cousin Precious came over. When Precious saw Annie she asked her to take her to the playhouse. When they got to the playhouse Annie opened the door. Precious was exited with all the things she saw there. Then, Precious asked Annie where were all the dolls and Annie said they were sleeping. Precious started making fun of Annie?s dolls because they were home made. She started touching everything and making a mess in the shed. When Annie saw what her cousin was doing she was furious and left the shed and decided that the best way to get rid of the cousin was to scare her. Precious was so scared that she ran away and this worried Annie because she didn?t have a clue where Precious was. Do you know what happened to Precious? Where was Precious found?
If you want to find out what happens and how the problem was solved, go to the library and read this interesting book. It may help you deal with problem family members.
My favorite part was when Precious made a mess. I like that part because it was funny. This is a very nice story. I liked this story lot.
I recommend this book a to children that have problems with family visiting their houses