Amelia Bedelia Goes Camping
Written by Peggy Parish
Illustrated by Lynn Sweat
Reviewed by Salome M. (age 9)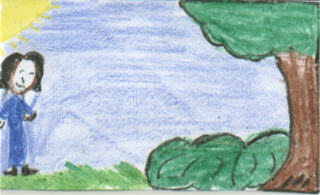 This story is about Amelia Bedelia, Mr. and Mrs. Rogers were going camping and when they got there, they went fishing. Amelia Bedelia was with them and when she, saw the lake she decided to jump in it. She got very wet but had a good time. After her dip, she put on her clothes and they ate all the food they had brought. They had so much fun that it seemed like they had a party. If you want to know what happened to her don?t miss this Amelia Bedelia story.
My favorite part of the story is when Amelia Bedelia jumped in the lake and she got wet. My favorite character is Amelia Bedelia because besides being funny she does almost everything wrong.
This story does not bring back memories because. I have never gone camping, but some of friends have gone and told me that it is lots of fun.
I love to read books about people who are funny like Amelia Bedelia. She? s very funny. I recommend this book to second and third grade children