Duke Ellington
Written by Davis Pinkney
Illustrated by Brian Pinkney
Reviewed by Trevor C. (age 9)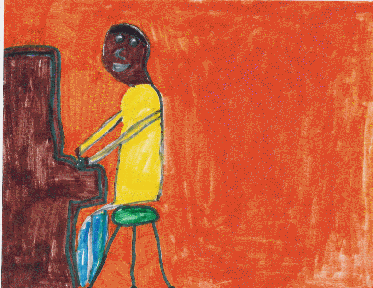 Duke Ellington was born in 1899. Duke didn't like playing the piano at first. When Duke was 19 he went to a club and heard someone playing ragtime music and that got him back to playing his piano. Then he started to make his own songs. He formed his own band and he became famous for his music.
This is not like any other book I have read before. This book is like my life because at first I didn't like to play the flute. When I learned how to play it, I liked it.
I like this book because it has good illustrations and lots of detail. I liked the illustrations because they have swirls when the music comes out of the instruments. The colors are very bright.
My favorite character is Sonny Greer because he is the drummer. I think that Sonny Greer plays a really cool instrument.
I think second through fourth graders will like this book. Children who like music will be interested in this book.