Sweet Clara and The Freedom Quilt
Written by Deborah Hopkinson
Illustrated by James Ransome
Reviewed by Emma Z. (age 9)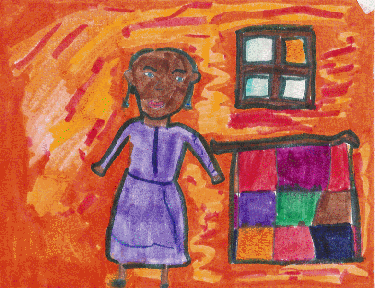 This book takes place during the time of slavery. In this book, a girl named Clara gets sent to a plantation. First Clara worked in a field and then her aunt teaches her how to sew. Clara goes to the Big House and makes a big quilt. The Big House is a place where all the cooking is done and where the slave owners live. The quilt is a big map.
This book teaches you that if you start to do something you should never give up. Clara didn't give up and she did what she wanted to do.
I liked the book because Clara made a really big quilt. She wanted the quilt to help other people on plantations. I thought that was really nice.
I think that hte illustrations are really pretty. The illustrator painted realistic pictures.
Clara changed in many different ways. She changed from not knowing how to sew to knowing how to sew. She learned how to sew from her aunt.
My favorite part of the book is when Clara decides to make the quilt. Clara was interesting because she made such a big quilt that wasn't even for herself. Clara is also a very persevering person. She wanted to make the choice to learn how to sew and she wouldn't give up.
I think that if you like books about African Americans and slavery you will like Sweet Clara and the Freedom Quilt. Kids in third through eighth grade should read this book. There are good lessons to learn.