Ribbon Rescue
Written by Robert Munsch
Illustrated by Eugine Fernandes
Reviewed by Gabby C. (age 8) & Morgan H. (age 8)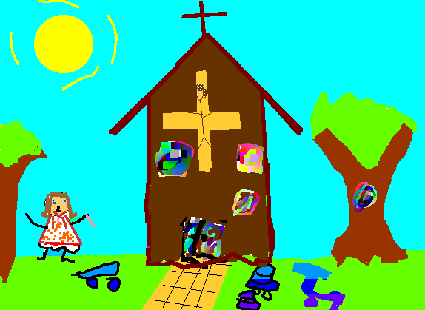 The bride, the groom, and a family who are going to the wedding, were all LATE. They all had different problems like the groom who is lost and late running down the street with his shoes off because he has no laces. Jillian saves the day. When she gets to the wedding she is a mess. Will anyone save her day?
The lesson in the book teaches you that if you are kind to others it is like a boomerang it will come back to you. We like the pictures. They are really funny and crazy. For example, the brides hair in one of the pictures is standing up like it was shocked by electricity. We both also like how Robert Munsch writes all his books. He uses a lot of funny repetition of words such as "I'm late, I'm lost, I'm late, I'm lost, I'm going to miss the wedding."
We recommend this book to people who like to laugh and people who like Robert Munsch stories. We also know that people who are late for things might like this story too.