The Beetle and Me
Written by Karen Romano Young
Reviewed by Betsy S. (age 10)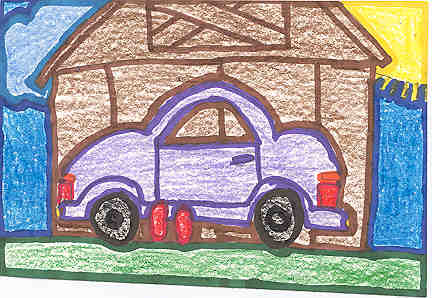 Oh perfect! Daisy's dad just said he'd help her fix the Beetle she wanted. She wanted to prove to him that she's a good engineer, and she didn't want any help. The only help she would take was from Daniel's dad. (Not even Daniel!) Daniel is a cute, blonde haired guy that Daisy falls in love with. until she finds out that Daniel likes Helen, her sister, and Imogene, her cousin. Then she meets Billy Hatcher. He offers to help her fix the car, but she turns him down too. She also turned down his kiss and his date. After awhile Daisy finds out about Billy's life, and things gradually get better.
I liked this book because it was really about trusting each other and hoping. Daisy especially makes a good role model in some ways for everyone, because she trusted those who offered to help, and she believed in herself.
I recommend this book to people who like love stories. And I recommend this book to people who like to wait and keep on reading to see what is going to happen next. It's a great book for those who like to read books that have love and life put together to make a big problem that's easily solved, but all you have to do is trust and believe. You can't solve anything if you don't do those two things. This book teaches you about this. You should read it.