Together in the Pinecone Patch
Written by Thomas F. Yezerski
Illustrated by Thomas F. Yezerski
Reviewed by Hannah W. (age 8)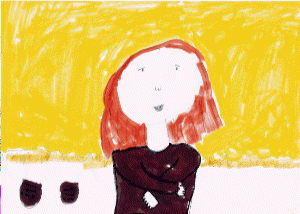 This book is about two kids, Keara from Ireland, and Stefan, from Poland. At the time of the story their two countries were enemies. Keara and Stefan's families moved to America and lived on the same road. Everyday Stefan and his dad had to pass Keara's house and Stefan and Keara would tease each other.
Over the years Keara and Stefan became friends. I think the message that is given in this book is you can get along even if some other people don't want you to.
I think the characters in this book changed as they got older because over the years they realized that the other person was kind in their heart. This book is similar to other books that I have read like: America's Champion Swimmer and Martin Luther King, Jr. because Keara and Stefan persevered and stuck with their ideas even though it was very hard.
I recommend this book for 2nd-8th graders. I think they can learn a lot from it and they will like the characters Keara and Stefan.