Feathers and Fools
Written by Mem Fox
Illustrated by Nicholas Wilton
Reviewed by Delaney W. (age 9)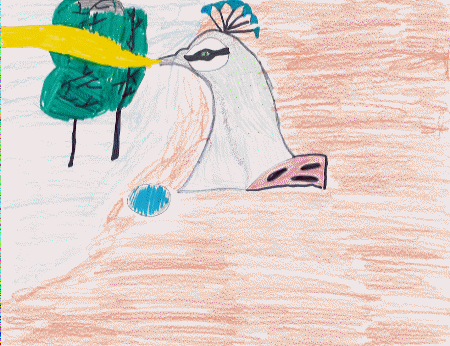 The book Feathers and Fools is about peacocks and swans that do not like each other because of what they have heard about each other. Some of what they have heard may not be true. They sharpened feathers to use as weapons.
One day a swan was flying over the peacocks with a piece of reed in her beak. The peacocks mistook it for a sharpened feather and this started a big fight. All the birds died! Before the birds had died two new eggs were laid. When they hatched, one was a peacock, one was a swan. They walked toward each other and became friends.
In this book there are a lot of good illustrations. They have a lot of color and they are very detailed. I like them a lot. I think readers will like the illustrations because they are colorful.
As I read the book it made me wonder what the end would be like and what the lesson was. I liked the end of the book because it tells a good lesson. The lesson was to accept the fact that we all may not look the same, but we can still be friends.
I think readers in grades 2-6 would like this book.