El Trayecto/The Trek
Written by Ann Jonas
Illustrated by Ann Jonas
Reviewed by L.N.V. (age 6)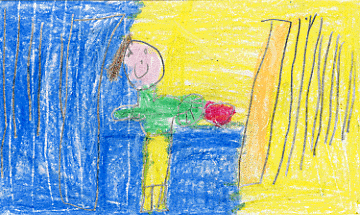 This book is about a girl who goes to school and sees animals all around her. She sees a tiger in the grass, a giraffe in a tree, a zebra in a bush, monkeys in a tree, elephants in some trees, and many more animals. The animals are not real. The girl is imagining them.
I liked the elephant trees the best. This book is really neat because it has the words written in spanish and english. I also liked the story because it reminds me of a zoo.
I recommend this book because it has pretty pictures and lots of animals. This would be a good book to read before you go to a zoo.