I Have a Sister - My Sister is Deaf
Written by Jeanne Whitehouse Peterson
Illustrated by Deborah Ray
Reviewed by Bailey C. (age 8) & Esther P. (age 8)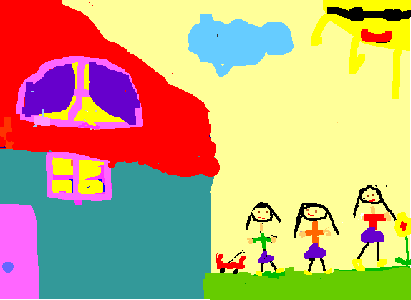 Have you ever wondered how it feels like to be deaf? Well this is a tale of a girl who is deaf. Deaf means that you can't hear sounds. This girl only has four senses: sight, smell, touch, and taste. She is missing hearing because she is deaf. This girl is special because there are not many deaf people.
But she can feel something and that can help her understand people. It's called VIBRATIONS. Vibrations are movements. For example, when you're in the movie theater and your cell phone rings and you don't want to disturb people, the cell phone would wiggle and jiggle and you would know that someone is calling. The girl can play the piano by feeling the deep rumbling chords. She can play the piano, but she can't sing or hear the tune. On the playground she uses her eyes and hands. Even though she's deaf, she is like any other person.
Her big sister is nice not to make fun of her because she is deaf. This book teaches you that you shouldn't make fun of deaf people.
I (Bailey) think it's a good book because I like the black and white illustrations and the colorful words. I (Esther) think that if you read this book you will be sad too because some people are talking, but she can't talk or hear. We think it's a good book because the book tells you what she can do and what she can't do. The author hides words in the text. For instance, the author explained the deaf girl had brown eyes without saying she had brown eyes.
We recommend this book to people who are interested in deaf people. Our parents like this book also.
We wonder what it feels to be deaf.