Angel in Charge
Written by Julie Delton
Illustrated by Leslie Morrill
Reviewed by Gigi Y. (age 10)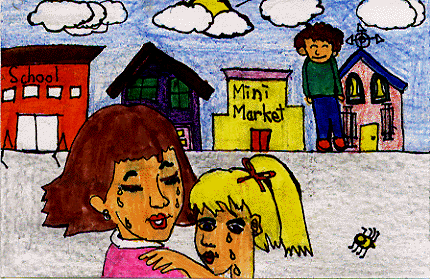 Do you believe a ten year old girl can be in charge of her brother and the house independently while her mother is away? An interesting fiction book Angel in Charge will tell you more about lovable siblings.
Angel, a ten-year old girl, lived with her mother and her four -year old brother, Rag, in a small Wisconsin town. Angel knew some day she would leave home to go to college or go to work and be independent. But it started much earlier when her mother had the opportunity to go on an unexpected and much needed vacation to Canada. Then her mother's friend Alyce moved in and planned to take care of Angel and Rag.
Unfortunately Alyce broke her leg and was sent to the hospital. Angel and Rag were left home alone. Angel had to be in charge of everything. She had to prepare their meals, to feed Auntie Alyce's animals. Angel also needed to look after her little brother even when she was in school. She further needed to overcome all the problems caused by Rag. Next Angel and Rag were scared by the strange noises at night. When Alyce came home from the hospital, Angel also needed to take care of her. Angel felt tired when she was in charge of everything. She didn't give up.
From the story I learned that it is extremely sad to live without parents. That's why we should love and care about them when they are available. I like the part at the end when Angel's mom came back. I was happy to see Angel with her mom and her little brother again. Angel really loves her family.
The story reminded me that once my parents went on a trip. My grandma looked after us. One day when my grandma took a nap in the afternoon, my brother and I felt hungry, my brother made a cup of noodles to share. Unfortunately, my brother was burned by the hot water. We cried for help. I was amazed to learn that Angel could handle all the problems independently. The adventures of Angel in the book were exciting.
I recommend the book to third grade readers because the book is interesting and easy to understand.