Frindle
Written by Andrew Clements
Illustrated by Brian Selznick
Reviewed by Loosin M. (age 10)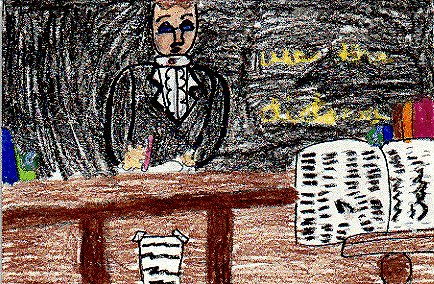 I have been reading a book called Frindle. I enjoyed the book very much. A lucky boy named Nick in the story finds a pen, he names it Frindle. He really likes to liven things up at school. When Nick learns some interesting words, he comes up with Frindle. From his class to the world he becomes famous. It's spreading fast and there is nothing Nick can do to stop it.
There was one character in this book who changed a lot, Mrs. Granger. She was a really mean teacher and after a while she changed. She changed when Nick became so famous because of this new word Frindle. He was on the front page and then on the hottest show on t.v. So Mrs. Granger understood that he really wasn't a troublemaker. This was my favorite part. I liked it because if you need help changing how you act, you could learn from Nick.
I recommend this book to any grade level up to 7th. It is a hilarious book. It has a good beginning to make the reader keep on reading. The book ended differently however. One of Nick's classmates stole the title Frindle and he became famous instead.