The Boxcar Children--The Copycat Mystery
Written by Gertrude Chandler Warner
Reviewed by Annabel H. (age 9)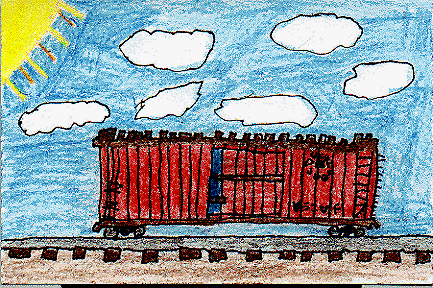 Have you ever heard of a ghost playing tricks? Now you will in The Copycat Mystery by Gertrude Chandler Warner. It is about 4 children named Henry Alden, Jessie Alden, Violet Alden and Benny Alden and how they all go back in time. Yes, back in time! It all begins when they go to a Historic Wanger Farmhouse, an old Victorian house that has been turned into a museum. The people who worked there needed volenteers. The Alden kids said they could help. Then all of a sudden weird things start happening and that their friends are being blamed for. They were the exact jokes of Horace Wagner the practical joke master. Now people won't come to the museum because they think it's haunted. This is the mystery the Alden kids are going to solve.
The Boxcar Children is a series of kids' books. It is similar to Cam Jansen books because they're both about mysteries. The book I read was called "The Copycat Mystery." My favorite part is when The Boxcar Children find out they'er going back in time. I liked that part because i didn't know what they were talking about and further in the book it told me but I was still surprised. The book I read is just like other books in the series because there is always a mystery to solve. I think the story is well writen because it doesn't just say what happens in the very first page, it builds up.
I recommend this book to people who liks mysteries. Even if your're in 5th grade you will still like this book. I just couldn't put this book down becaause it was so good. If you do like mysteries, you will probably be just like me, you just can't put this book down.