Howliday Inn
Written by James Howe
Illustrated by Lynn Munsinger
Reviewed by Alethea H. (age 9)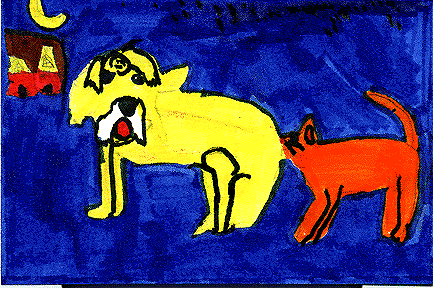 For my novel I chose a book called Howliday Inn by the author of Bunnicula (James Howe). This book is about a cat and a dog going to a place called Chateau Bow Wow. As soon as they spend a whole night there a dog disappears. A cat named Chester thinks someone murdered the dog. A dog named Harold doesn't believe him until Chester disappears. Will Harold find out what happened to Chester before he disappears too? If you want to find out what happens, check it out today in the library before it disappears too!!
This book is a very exciting book. Chester and Harold get to solve a great mystery. It is just like a Cam Jansen book. Both of them are mystery books. Chester is just like Thomas in the Cam Jansen series. They are both smart.
My favorite part of the story was when Harold found out that he solved the mystery of Chateau Bow Wow. I like that part because Harold didn't need any help. He did it all by himself.
I recommend this book to people who like adventures. This story is very adventurous when the characters go searching for clues. So if you are a person who likes adventures then you are lucky because this is just the book for you!