The Hobbit
Written by J.R.R. Tolkien
Illustrated by Alan Lee
Reviewed by Michael B. (age 10)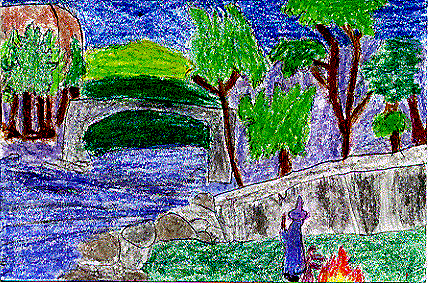 The Hobbit is an extremely exciting adventure book. Some of the characters are dwarves, goblins, trolls, wargs, a dragon, a wizard and most importantly a hobbit named Mr. Bilbo Baggins. The hobbit, Gandalf the wizard and twelve dwarves go on a dangerous journey that might get them killed. All because back in the past an evil dragon named Smaug killed a large number of dwarves and stole their land and all their gold. The dwarves are returning to get back their gold with the help of the wizard and the hobbit. Will they ever come back? Will the dwarves die? Will Bilbo Baggins die? Will they give up or will they survive and get back their gold? You'll have to read this enchanting novel that was written in 1937.
I think that The Hobbit is like the Harry Potter series because there are always extraordinary events happening time after time. My thought is that Bilbo Baggins reminds me of myself because he lives a calm and peaceful life and can have a very exciting life filled with a lot of adventures too. This journey shows how Bilbo Baggins' life changed from a simple comfortable one, to a complex life filled with action packed excitement.
I recommend this amazing novel because it has incredible adventures happening all the time. This story never stops thrilling you. I think anyone that is a good third grade reader and above will absolutely love this book.