Gib Rides Home
Written by Zilpha Keatley Snyder
Illustrated by Zilpha Keatley Snyder
Reviewed by Thomas T. (age 9)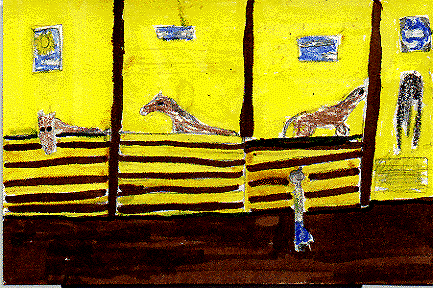 Gibson Wittaker, a boy from the orphanage, gets jealous when Gorgie Olson gets adopted. Soon Gib realizes Gorgie is "farmed out" but Gib still has his hope dream. His hope dream is to be adopted. Soon Gib gets adopted and he also is a "farmed out" kid. The family isn't what Gib still shares his ability to "talk" to horses.
You just won't want to put this book down. You'll like it a lot and I mean a lot. My opinion about the book is that it's very detailed. Since I enjoy reading about horses I enjoyed reading this book. While I was reading it reminded me of my life, when I went horseback riding. It also reminded me of another book called Harry Potter and the Prisoner of Azkaban. It reminds me of that book because when Black Silk the horse nearly gets killed, Hagrid's pet in Harry Potter also gets saved.
I recommend this book to those who like horses, like me. You would like it because it is about someone who can talk to horses.