The Adventures of Taxi Dog
Written by Debra and Sal Barracca
Illustrated by Mark Buehner
Reviewed by Sharif M. (age 6), Ocean W. (age 7) & Harry H. (age 6)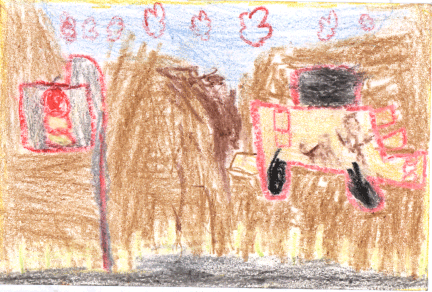 The book is about a dog named Maxi and his owner named Jim. Maxi got lost. Jim was driving his taxi and found Maxi. It was snowing and Maxi got into the taxicab. Jim became Maxi's owner. They went to a lot of places together. They drove to the airport and hospital. Maxi went home with Jim, and Jim gave Maxi dog biscuits. Read to find out the other places where Jim and Maxi drove the taxicab.
We like the book very much because we like dogs. We also like this book a lot because it is funny. Maxi put on a disguise for the customers. He looked funny. He put on a show so they would get tips. Jim is a nice guy because he takes good care of Maxi and feeds him. We like the illustrations because they made us laugh. When Jim and Maxi picked up the clowns, they were acting silly by standing on their head and rabbits were coming out of the magic hat. The pictures are made with oil paints over acrylics.
We recommend this book because it is funny. There are a lot of silly people in the book doing things that will make you laugh. We think this book is good for kids in kindergarten and first grade learning how to read.