Wayside School is Falling Down
Written by Louis Sachar
Reviewed by Jacalyn H. (age 10)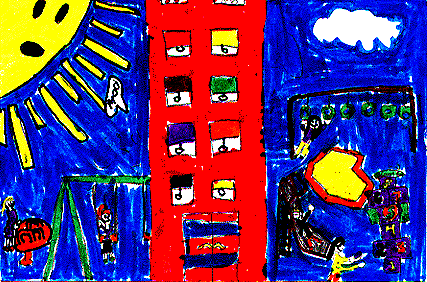 You thought a school would be two stories high and, well it depends on your school. But is your school 30 stories high? I don't think so! Well, I think you'll be surprised when you hear this! There is a school like that. It is called Wayside. I will tell you a summary of Wayside School is Falling Down by Louis Sachar. I don't know what to start with, because in Wayside stories there is more than one story. There's 30 stories.
There is one story when the teacher, Mrs. Jewls, gets mad. What will Mrs. Jewls do? Or Pigtails, a boy on the 30th floor is going to fall down. But there is a girl! How can she save him? If you're not interested in this story, try Calvin's Big Decision. It's Calvin's birthday and he gets a tattoo. What kind of tattoo will he get? You will be surprised of what he gets. Now try reading Mush! She is the lunch lady. Everyday it's Mushroom Surprise! One day Ron, a boy, ordered Mushroom Surprise. He took a bite. Then he looked at Deedee. His eyes changed color. What will this food do to him? Last of all, there is a story called Wayside School is Falling Down. There was a strong wind at Wayside School. The school seemed as if it swayed back and forth. It was! Kids tried to find their desks. It was hard, desks went back and forth. And there are lots more stories.
I think this is a book for kids who have funny and creative ideas. My favorite story is The Mean Mrs. Jewls and of course Wayside School is Falling Down. I'm happy and very glad because my school isn't 30 stories high. It actually could fall down.