Ragweed
Written by Avi
Illustrated by Brian Floca
Reviewed by Seu Mei F. (age 10)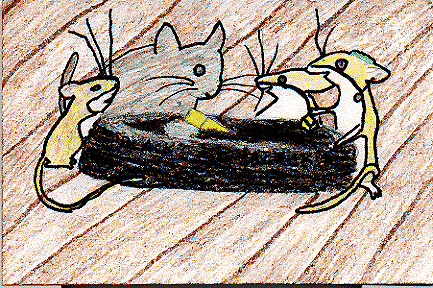 If you like adventure, excitement and mice, I think you should read this book. A small country mouse named Ragweed wanted to see the world. He travels on a train and he ends up in Amperville. He meets a mouse that saves his life from a carnivore cat, Silversides, the leader of F.E.A.R. (Felines Enraged About Rodents). He meets other mice that make his life challenging. He has difficult decisions, but he makes the right ones. They get revenge on the cats of F.E.A.R. But how will they do it? Find out in the book Ragweed.
While reading this book, I felt excited about what would happen next. Will Silversides eat the mice or not? What will happen if she does? You just never know unless you've read the book. I thought the book was special. It surprised me a little. I thought it was only adventure, but it turned out there was a little romance. I liked the book because it made me have different expressions and feelings. And it ended happily.
I recommend this book to people who like adventure and courageous characters. Someone who gets excited easily would like it. A person that wonders. That is a good person for the book.