Dolphin Luck
Written by Hilary McKay
Reviewed by Eileena G. (age 9)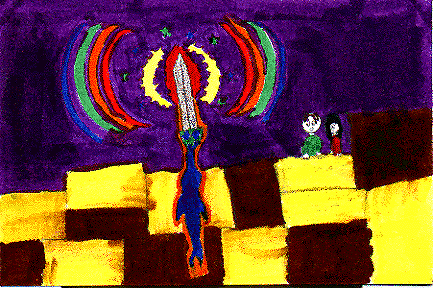 Dolphin Luck is an outstanding book with characters who explore a house. It was a cold Christmas. Mrs. Robinson, Beany and Sundance's mother and Old Blanket, their dog, became very sick. Mrs. Robinson was sent to another place with a warmer climate. She leaves her children Beany and Sundance off to Mrs. Brogan and her son, Robin. When Mrs. Robinson is healed, she'll come back. Soon, Beany finds an ancient sword shaped like a dolphin which was made to bring luck and grant wishes. Find out what happens to those adventurous kids and the journey beyond the dolphin sword. Read Dolphin Luck to find out about the incredible sword.
Get ready to shoot your eyes on one of the most exciting books ever. When I started to read this book, I thought how interesting it might come out to be. My favorite part was when Beany finds the magical dolphin sword. One thing I like about the story is that they don't start telling all the main ideas; they start at the beginning and then slowly build up to the main part. It never gets boring. You will like Dolphin Luck because it is adventurous. It has a lot of action too. Few kids go exploring in a house and discover a dolphin sword. I enjoyed reading it because it made me want to go explore and maybe be an explorer one day.
I recommend this book to people who like adventures. You may not get to really explore, but when you read this book, you will feel like you are exploring! Enjoy reading the book Dolphin Luck by Hilary McKay.