The Fairy's Mistake
Written by Gail Carson Levine
Illustrated by Mark Elliot
Reviewed by Jesper T. (age 10)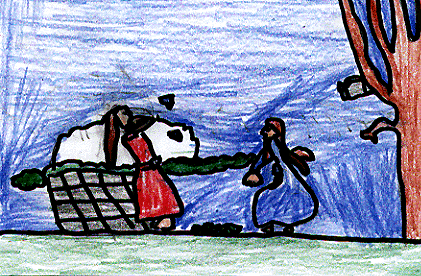 The book that I am reading is called The Fair's Mistake by Gail Carson Levine. This fairy comes up to a girl called Rosella and gives her water. Then a while later, diamonds and crystals start popping out of her mouth. Rosella got used to diamonds popping out of her mouth. A prince comes up to her and picks up a diamond and asks her to marry him. So she did. Her sister Myrtle got a drink from the fairy. Then a while later, snakes, water bugs, and dragonflies are coming out of her mouth.
Rosella didn't love the prince madly like he did. Prince Harold and Rosella are in front of the palace when he says, "let's announce our engagement tomorrow." Rosella says, "alright." What will happen in the end? If I were you, I would read to see what happens.
This book made me think about what if Rosella liked the prince and how the book could have changed. I like the part where rubies popped out of Rosella's mouth when she was eating peas. It almost made her chip a tooth! I chose this part because I thought it was funny. I recommend this book to people who like fairy tales and who like a little bit of comedy. This book is the first in a series called "The Princess Tales." If you like this one, you could check out the others in the series.