Ping
Written by Marjorie Flack
Reviewed by D.N. (age 6)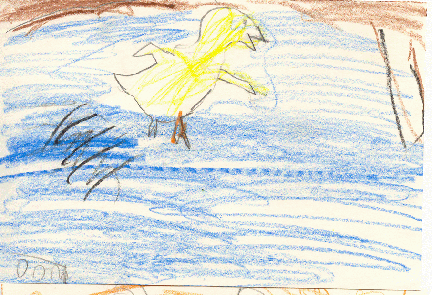 Ping was a duck. He knew he would be the last one on the boat and he would get whipped. So he went somewhere else and got lost. He was getting tired. He was sleeping. Then he wanted to go find his family. He was searching. Kids caught him and the parents wanted to eat Ping. They put him in a box but the kid opened it and threw Ping back in the ocean. Then he found his family and he was the last one so he got whipped. He was happy because he found his family.
I liked the book because it's a nice book. It's kind of sad. Ping learns he'll never get lost. I liked the part where he is sleeping because he is cute.
I think people who like ducks would like to read the book. Moms and dads would like the book. Kids would like the book because of the boats and the ducks.
(This review was dictated to Mrs. Kuechle.)