Under the Stars
Written by Ben M. Baglio
Illustrated by Judith Lawton
Reviewed by Jessie G. (age 10)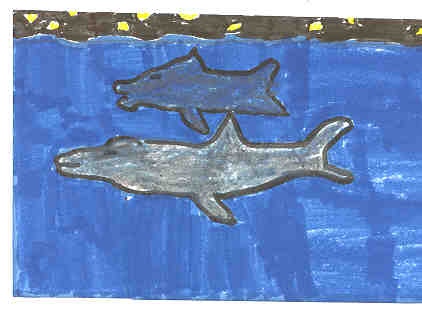 Jody McGrath is living on a boat with her family and is visiting Dolphin Haven. At Dolphin Haven three of the dolphins (Bella, Misty, and Evie) are having babies. Jody can't wait to see the baby dolphins being born. After Misty's baby is born, Jody, Brittany, and Jody's twin brothers Sean, and Jimmy are starting school with their teacher Maddie. Brittany does not want to share a class with Sean and Jimmy. Cam volunteers to teach Sean and Jimmy multiplication. To find out about Misty, Bella, and Evie read the book.
I like the book because I like to read about dolphins. This is #4 in the series. I read the other books too. They are just as good as this one. My favorite part of the book was when Evie's calf was born. I like it because she is born under the stars. At the end of this book it make me wonder what the next book is about.
I recommend this book to people who like to read about dolphins. A readers who would like this book are 3rd , 4th and 5th graders. Here are other books in the series: #1 - Into the Blue, #2 - Touching the Waves and #3 - Riding the Storm.