Open Wide
Written by Laurie Keller
Illustrated by Laurie Keller
Reviewed by Martin S (age 10)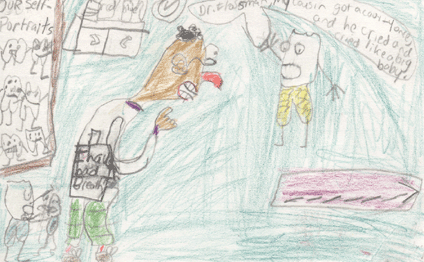 Do you want to know the parts of a tooth? Do you also want know the life of a tooth in school? Then you should read this funny book about teeth. This book is about the life of teeth in school. The teacher named Dr.Flossman is a totally strange teacher who teaches the students (the teeth) the parts of a tooth, which is really about themselves. It is like a normal day in school only with teeth. They even have lunch and recess. They also do essays, reports, and even homework!
My favorite part is when a girl tooth starts to tell Dr.Flossman that another tooth called her a bad name. Actually I like the whole book. I like the pictures because some of them have funny comments. I learned that a life of anything is tough. This book also reminds me of when I'm in school.
I recommend this book to all my friends because they are funny and are great friends. I think this book is for 8years old and up. I like this book because it's the funniest book I've ever read. I also recommend this book to people who like to laugh.
This book reminds me of Benjamin C and Jonathan G because they are very funny. I think everyone should read this great book.