Kingston the Great Dane
Written by Debbi Michiko Florence
Illustrated by Melanie Demmer
Reviewed by Sara Tehila G. (age 11)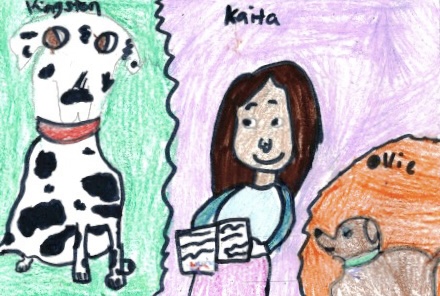 Do you like books with dogs? Well, if you do, then you'll probably love Kingston the Great Dane! It is in the My Furry Foster Family series. This story is about a girl named Kaita who fosters pets, this time a huge Great Dane that looks like a baby cow. Kaita already has a mini dachshund named Ollie. Kingston likes doing everything that Ollie does, from going under Kaita's chair to being a giant lap dog. I think that it's funny when this "baby cow" goes under her chair because the whole chair lifts up! When he goes on Kaita's father's lap, he still has his front paws on the floor, while the rest of him is on her dad's lap. Find out how she and Ollie are going to say goodbye to a pet that she adores.
Three people in my family love this sweet, funny book. My favorite character is Kingston, who is a wonderful dog. It would probably be fun to have him as a pet in my family. It would be hilarious if a dog like that followed me around. The lesson in this book is that it is hard to say goodbye to a pet.
I recommend this book to anyone who like books about dogs, specifically kids age 6-8. This book might also help someone who recently lost a pet to know that they're not the only one. Read this book!