Phantoms Don't Drive Sports Cars
Written by Debbie and Marcia Thorton Jones Dadey
Reviewed by Jennifer F. (age 10)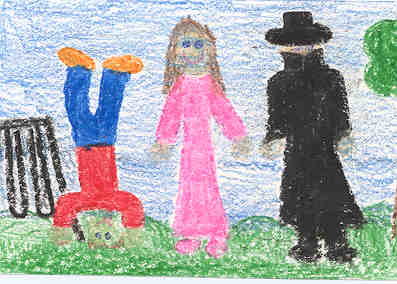 "Laaaaaaaa," howled Eddie. Eddie, Liza, Melody, and Howie are going to Bailey City Opera House for a field trip and they found a really nice sports car in the front of the Opera House. Later they found out that a really mysterious violinist owned the car. After the opera the mysterious man and an actor came into their classroom. Melody thought it was the Phantom of the Opera. The Phantom started doing things to Eddie because he didn't behave at the Opera. So Eddie, Howie, Liza, and Melody decided to make the Phantom leave. Find out how Eddie, Howie, Liza, and Melody get rid of the Phantom by reading this awesome book!
Phantoms Don't Drive Sports Cars is a really exciting book. I liked this book a lot because it is a mystery book and you can never tell what's going to happen next. My favorite part is when Eddie is trying to distract an actor by standing on his head and making faces. I like this part because he is acting really weird and the phantom is hiding his face so no one could see how embarrassed he was.
I recommend this book because it's very exciting. If you like mysteries this book is for you. This book is also in a series, if you would like you can read other books by the same author.