Dog Man
Written by Dav Pilkey
Illustrated by Dav Pilkey
Reviewed by Victor S. (age 9)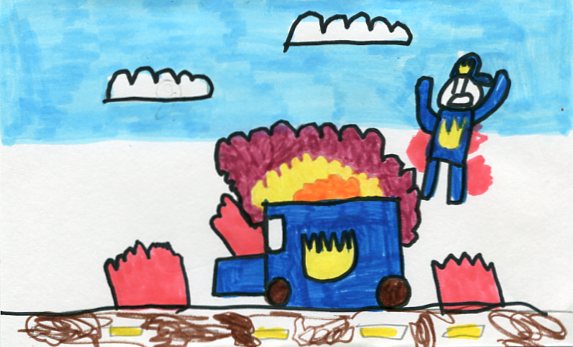 There is a Cop and a Dog who was the best cop and dog ever. They always stopped crimes. One day they were hurt by an explosion. The nurses had horrible news the dogs body was dying and the cops body was dying. They had the perfect solution to put the dogs head on the cops body. This is how they they created the one and only Dog Man. Dog Man was a terrific crime solver Finish the book to see what crimes they solve.
In my opinion if you read books with action and crime fighting and books that have superheroes you should try out Dog Man! This book reminded me of my brother Carlos because he is strong like Dog Man. For example, he can lift very heavy weights. I am convinced you will enjoy the illustrations because they are detailed. I am confident that you will find this book very funny.
I recommend you should read Dog Man if you love graphic novels and action. This book is good for children 7-10 years old. I know you will love it because after I read it I bought the whole series. I hope you enjoy it.