Ranger in Time: Rescue on the Oregon Trail
Written by Kate Messsner
Illustrated by Kelley McMorris
Reviewed by Christian L. (age 9)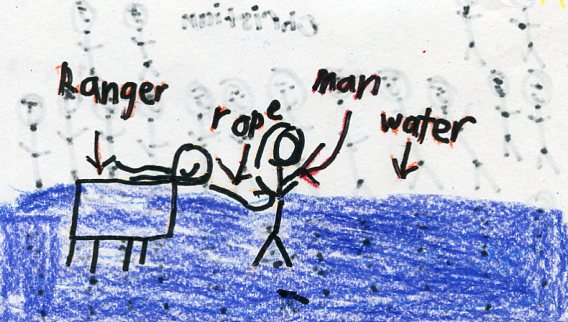 Bark! Bark! Have you ever met a golden retriever who gets distracted by squirrels? Meet Ranger, a dog who is trained as a search and rescue dog but can't officially pass the test because of all the squirrels. One day he finds a mysterious First Aid kit in the garden and is taken back to the year 1850. Ranger meets a boy named Sam Abbott who is traveling with his family west on the Oregon Trail. It is a very dangerous journey and Ranger joins them so they get there safely. Will he be able to protect them from dangers? You will have to read this book to find out.
I really liked this book because it had a happy ending. Ranger was my favorite character because he was adventurous, brave and cute. The illustrations were amazing because they gave me an idea of what everyone looked like. My favorite part of the story is when Ranger is really brave. Ranger jumps into the water to save a man. I thought that was cool! I also had a personal connection to the story. I have a dog who also loves adventures and goes into the woods a lot.
Kids should definitely read this book. It is a tale of daring adventures with a kid and his dog as the main characters. Readers that like stories of long ago will enjoy traveling back to 1850. Travel west along with Sam and Ranger. You will not be disappointed. This book has 126 pages and kids 9 and up will enjoy it.