Daisy Dreamer
Written by Anna Holly
Illustrated by Genivieve Santos
Reviewed by Izzy A (age 8)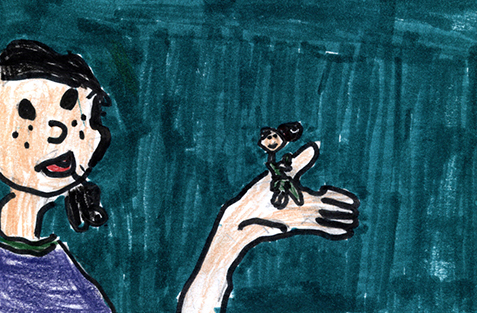 When Daisy and Posey go down to slide, they meet a Cloud Critter but the adventure doesn't end there. In the book, Daisy Dreamer, by Holly Anna, the two friends meet many other interesting characters.
Daisy and Posey are best friends. One day Posey asked if Daisy wanted to go to the world of Make Believe. When they get there, they meet a Cloud Critter. But the Cloud Critter is not happy! She tells them that her song has been lost. So Daisy and Posey set off to find her song. They travel to many places where monsters, ghosts, and other things live. Will they ever find the Cloud Critter's song ?
In my opinion, this was an incredible book I liked the adventures. My favorite adventure was when they meet all of the different creatures. I also liked it because I got to see new characters, like when they see the monsters and ghosts. My favorite characters are the Pretty Pixies. They are super small and it's funny when Daisy steps on their town!
I recommend this book to kids who believe in fairies and leprechauns. It is a funny book to read.
I give this book a five star rating!