Who's In The Shed?
Written by Brenda Parkes
Reviewed by Aundrea D. (age 8)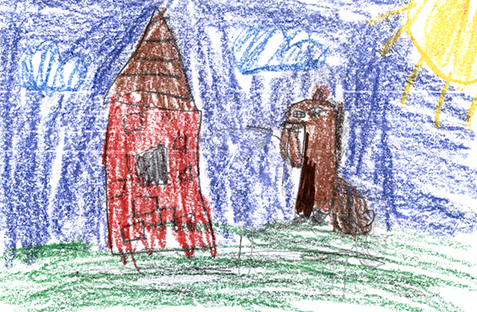 Have you ever heard a strange noise? I have! I was laying in bed and I heard a scary sound. I yelled for my mom. I got out of bed to investigate. In, Who's In The Shed?, by Brenda Parkes, four animals hear a strange noise and they are scared.
A pig, a sheep, and a cow live together in a barn. The animals are scared. They wake up to an unusual sound. They hear scratch, scratch, scratch in the shed. Some of the animals decide to investigate. They find clues that lead them to the shed. They find hairs and even claw marks in the ground. Who will they discover in the shed?
In my opinion, this was a good book. I liked this book because it was funny. I laughed when all of the animals screamed. I also liked how the animals tried to solve the mystery. They took blocks out of the wall to try to see what was making the noise. My favorite character was the horse because he always looked nervous.
I recommend this book to people who like mysteries because you have use the clues to see who is in the shed.
I give this book a four star rating!