I Will Surprise My Friend
Written by Mo Williems
Illustrated by Mo Willems
Reviewed by Bergen H. (age 7)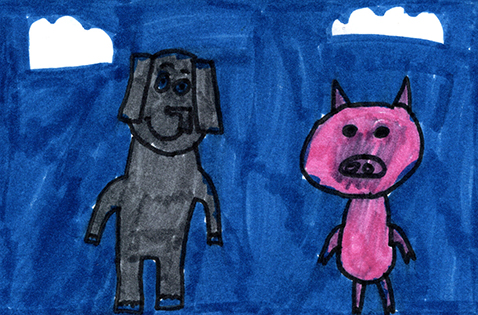 Do you like really funny books? If you do, you will like this book! This book starts with two squirrels playing hide and go seek. One squirrel was hiding behind a rock. Then, they said things. "Blah, blah, blah," said the squirrel to Elephant and Piggie. The other squirrel jumps out and says, "Boo!" Read this book to find out what happens next!
In my opinion, I think this book is really funny and it is so, so, so weird. The characters say and do strange things, which makes it funny. The ending is the weirdest part. This book is good because it makes you laugh. The "Blah, blah, blah" part is what makes it so funny. The illustrations are great, but simple. The background is always white, so you can use your imagination to visualize the setting.
I recommend this book to kids who love funny books. I think kindergartners to fourth graders will really enjoy this book.
I rate this book 4 ½ stars out of five stars.