Dancing With Manatees
Written by Faith McNulty
Illustrated by Lena Shiffman
Reviewed by Katie Y. (age 7)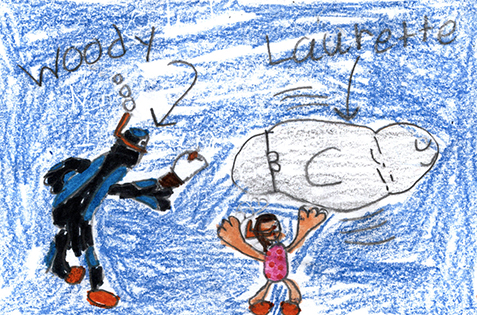 Have you ever seen a manatee or do you want to see one? In the beginning, a girl and her friend go to a river in search for the girl's friend's manatee friends. Laura and Laurette are the manatees they are searching for. Laurette has a fishing line cutting into her flesh. The girl's friend tried cutting it, but Laurette would not hold still. Read the book to find out the ending!
In my opinion, this is a very fun and exciting book! When one of the manatees is caught in the fishing line, it is exciting to find out how she is rescued. It's my favorite book! It's a VERY, VERY, VERY GOOD BOOK!!! I think the story line is fun and I hope you do too! The illustrations are carefully drawn and include many details. I want you to read it if you are interested in manatees.
I recommend this book to kids who like sea cows. If you do not know what a sea cow is, you should read this book to find out.
I rate this book 5 stars out of five stars.