Ghostopolis
Written by Doug TenNapel
Illustrated by Doug TenNapel
Reviewed by Memphis B. (age 7)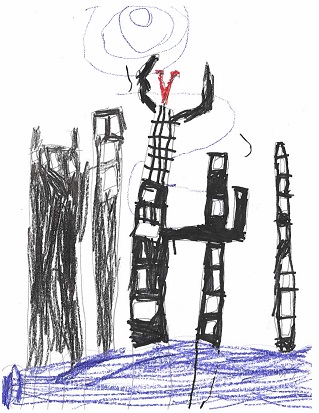 Do you want to know how ghosts live? If you do you will love Ghostopolis. It is about a boy that got sent afterlife and tries to escape vinegar. Garth is just a normal kid but when he gets sent to the afterlife he gets powers! One day he was sitting on his bed reading a book when suddenly a skeleton horse hops over him and he gets sent to the afterlife! While in the afterlife he meets his grandfather and tries to get home using his new powers. Along the way they see secrets, fight monster and almost get stuck in the afterlife forever!
One reason is that it's good if you're interested in ghost. This book is all about ghost and tells you where they live and what they do when they're dead. You will be learning so much about the ghost when you are reading this book. Another reason this is a great book is that it has good pictures. The pictures are very detailed I like it because it makes it realistic and it was easy to imagine it. The last reason I loved this book was it was a page-turner. It was so exciting I took it out to recess instead of playing!
I recommend this book because it has great pictures and because it is a huge page turner. Its a great graphic novel so if you like graphic novels like Dog man or if you like comic books you will love it! I hope you read it and love it just as much me.