Ramona's World
Written by Beverly Cleary
Illustrated by Alan Tiegreen
Reviewed by Emily S. (age 10)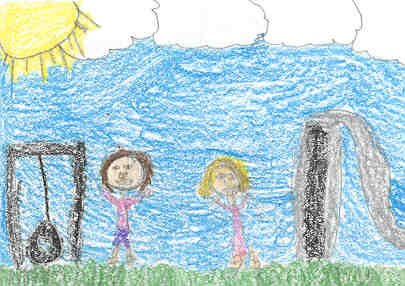 In the book Ramona's World, Ramona Quimby is ready to go to the fourth grade. It is the first day of school. Her teacher is Mrs. Meachman and she is really nice. The teacher tells the class to write a story about their summer. Ramona writes all about her new baby sister, Roberta. When Ramona comes home from school she keeps saying the word "stuff". Her mother yells at her to stop saying that word. At school Ramona meets a new best friend. Her name is Daisy. Daisy has a brother, one cat, and a dog. Ramona really likes Daisy's cat. One day Daisy asks Ramona if she could cat-sit the cat. Ramona went home that day and asked her mom if she could cat-sit the cat. If you want to find out if she is able to cat-sit the cat check this book out at your school or public library.
My favorite part of the story was when Ramona was in her classroom doing spelling and she spelled her name wrong. I thought it was funny because she is in the fourth grade and she does not know how to spell her name. This story reminds me when I met a new friend in school. I thought this book was great, because of all the funny things Ramona did at school, home, and at her friend's house.
I recommend this book to people who like Beverly Cleary. In this book Ramona keeps you interested at all times. When you read this book you don't want to put the book down until you finish. If you like this book you should read all the different books by Beverly Cleary.