Ranger in Time: Rescue on the Oregon Trail
Written by Kate Messsner
Illustrated by Kelley McMorris
Reviewed by Alivia S (age 8)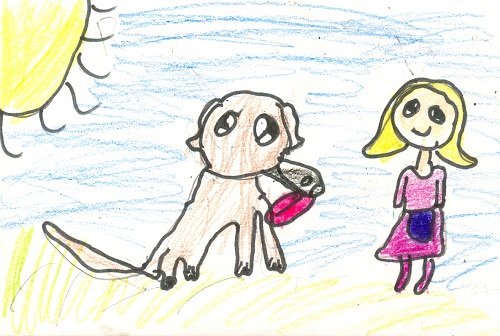 Ranger is back at it and this time on the Oregon Trail. Ranger meets a boy named Sam Abbot and his family is about to set off on a dangerous journey through the Oregon Trail. Can Ranger keep this boy and his family safe during their risk full journey? Read Ranger in Time: Rescue on the Oregon Trail if you want to find out and you enjoy the genre realistic fiction.
My favorite part of this book is when Ranger and Sam see rattle snakes at Independence Rock. This reminded me of when I was gardening and I saw a garden snake. Sam reminds me of my brother Dean because Sam loves Ranger and Dean loves our dog Raven. This book is part of a series. It is similar to other books in the series because they have some of the same characters like Ranger and Luke. Also they are different because each book takes place somewhere else.
I recommend this book for children ages 7-10. I also recommend this book to people who like awesome adventures. There are 126 pages in this book. I thought that the book Ranger in Time :Rescue on the Oregon Trail was an amazing thrilling adventure!!!!!